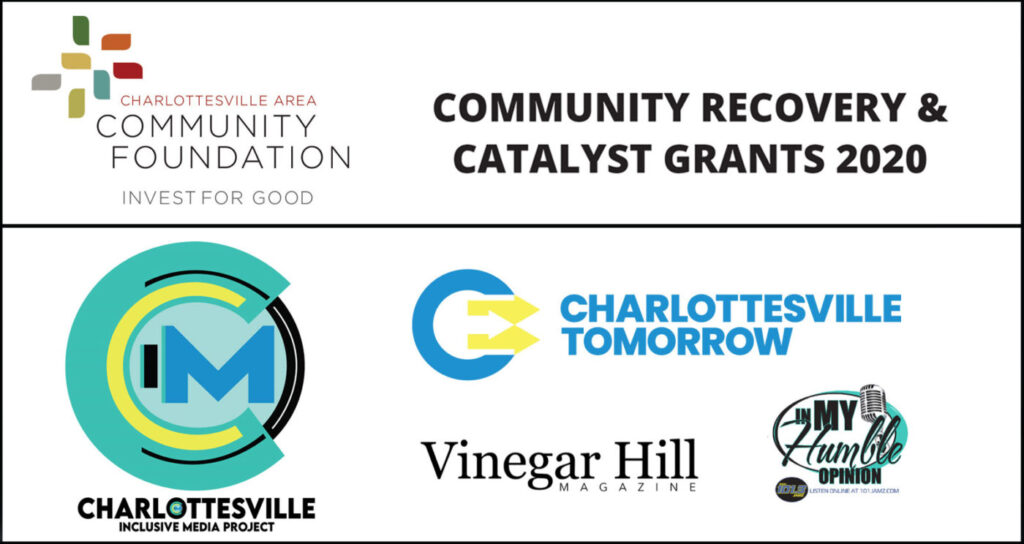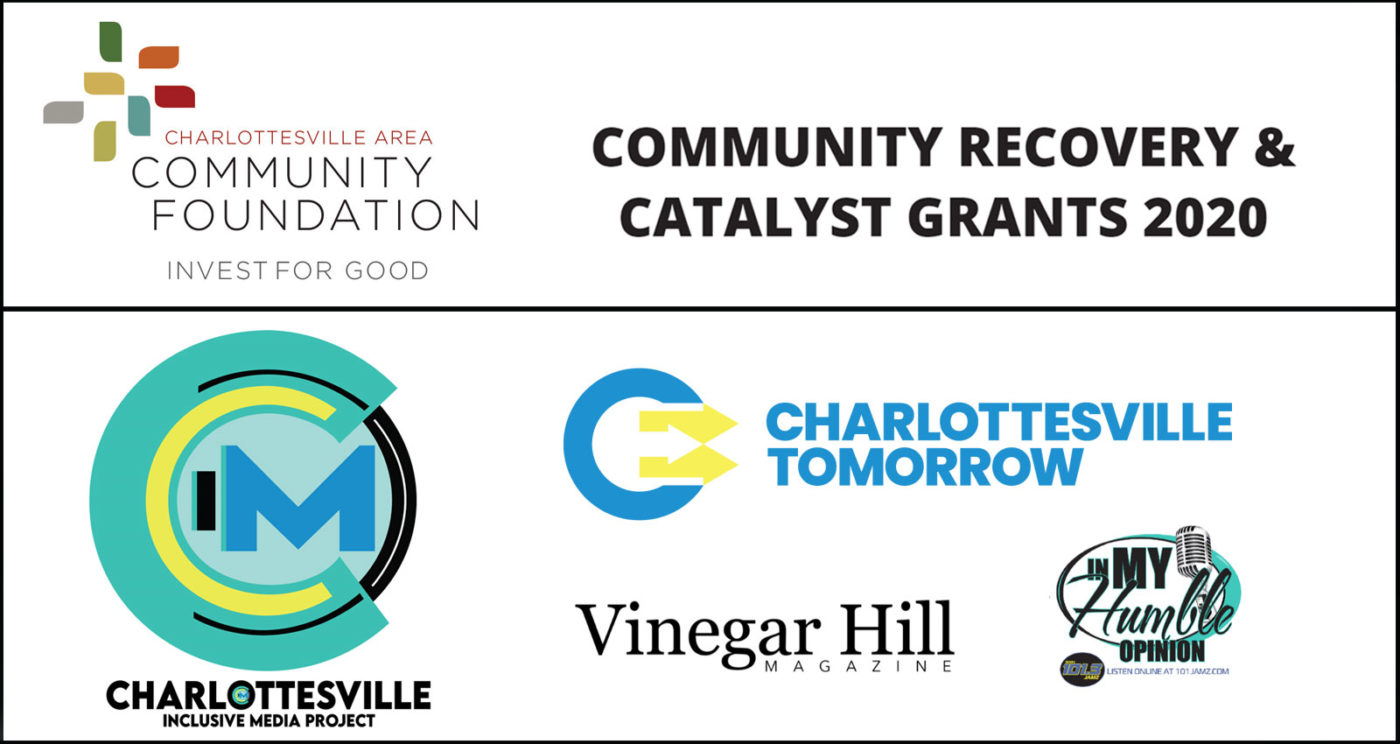 ---
Charlottesville Tomorrow, in partnership with Vinegar Hill Magazine and In My Humble Opinion Radio Show, has been awarded $23,000 through the Charlottesville Area Community Foundation's Community Recovery & Catalyst Grant program. The grant will help fund the recently established Charlottesville Inclusive Media project. 
"The review committee carefully considered their difficult decisions and were impressed by [CIM's] commitment to highlighting new voices and reaching new audiences during this challenging time," wrote Ethan Tate, CACF Donor Relations Manager for Grants & Scholarships. 
Community Recovery & Catalyst grants were made possible through a partnership with Bama Works Fund of Dave Matthews Band, the University of Virginia Health System, the Twice Is Nice Fund, and Enriching Communities, which is managed here at the Foundation. 
"The pandemic has had a significant impact on our nonprofit sector and has laid bare longstanding racial inequities in our communities," Brennan Gould, president and CEO of the Community Foundation, said. "Out of a deep dedication to our region, these four grant programs provided all of their available grantmaking resources to this special grant round. The Bama Works Fund also gave an additional amount, for a total of $1 million, to make these grants possible."
The Charlottesville Inclusive Media project (CIM), which includes Charlottesville Tomorrow, Vinegar Hill Magazine, and In My Humble Opinion Radio Show seeks to build a trusted framework for local news and policy reporting grounded in service to communities that builds trust, transparency, and power in inclusive local media and decision-making systems. CIM recognizes that legacy local media systems are part of the problem of structural racism in Charlottesville.
"Our founding partners work together to create community connections, lift up important conversations, empower African American communities and audiences, and build capacity for independent Black media companies and professionals," wrote Charlottesville Tomorrow's Development Director, Michaux Hood, in the partnership grant proposal.
"The very work of intentionally deciding to collaborate, work, exist, and produce within the tension of cultural difference and approach to problem solving is a daunting but doable task in itself," added Sarad Davenport, content manager and digital strategist for Vinegar Hill Magazine. "The space that is created for this exchange where the nuance of the black community in Charlottesville can be explored with the intent of creating a better news product will be invaluable."
In total, the Charlottesville Community Foundation awarded Community Recovery & Catalyst Grants to 124 area nonprofit organizations totaling $2,218,250.